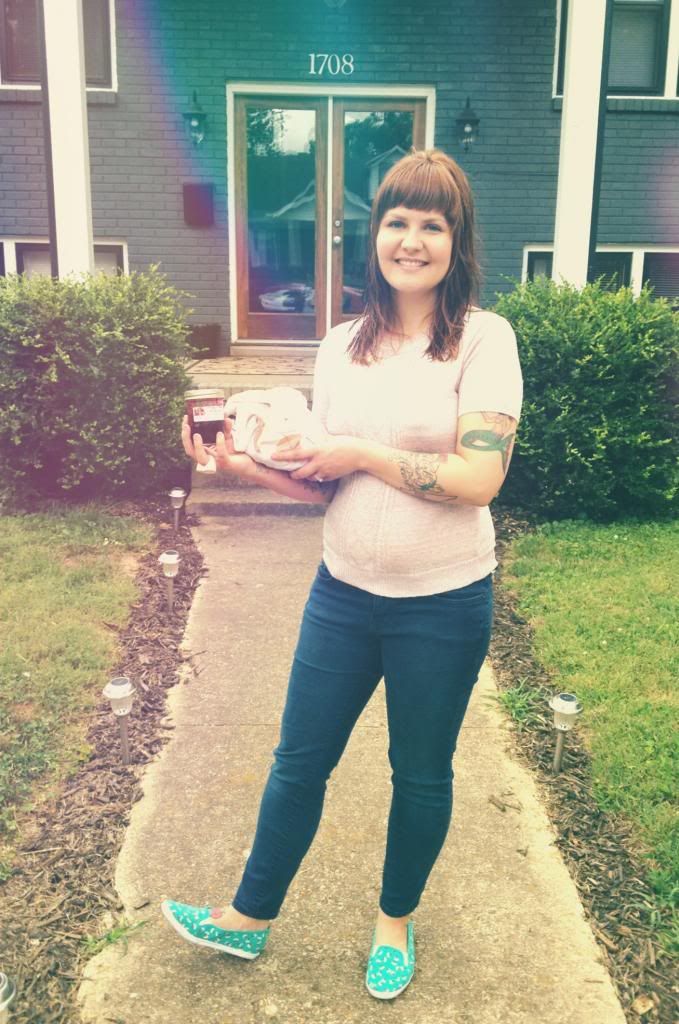 a few weeks after my first baby, holding some homemade bread and jam (naturally). we were so domestically ambitious back then.
recently i had a conversation with a fellow mama about our post-baby bodies and the fashion woes that come along with an ever-changing figure. the shifting hips, the softening thighs, the growing-then shrinking-boobs, the belly...oh, the belly. if we tried to dress according to the current trend and the current state of our holy and glowing temples, we would need a second job at forever21!
don't get me wrong, i love LOVE the shopping and buying and wearing of cheap thrills. but even the steadiest of us gals might find ourselves wavering in the self-esteem department after giving birth. so, here's my thought...what if we give ourselves a lot of grace in the beginning, while we are learning the ropes of caring for our new little human, midnight bowls of ice cream and all. then, when the time is right, when we finally get that refreshing second wind of energy (mine came at about 3 months pp. it was like the wind shifted and i wanted to be outside and moving my body again.) we get some exercise, put on some red lipstick, and go buy a damn good pair of jeans.
why jeans? for me, they are the everyday uniform. utilitarian, a little tough, and when they fit just right, they makes me feel amazing. at this point in the game, we've earned the right to find a really good pair, one that might cost a bit more than the clearance rack at old navy. the pair i found at urban outfitters was around $75, the perfect medium-to-dark blue wash, hit at my true waist (and thus, held everything in a bit better), with just the right amount of stretch. totally worth it because i'll wear those bad boys almost everyday, but its also a signal to myself that i'm back, i'm still me, maybe just a little curvier. and i think that's pretty great. xo